Circular Dance Floor Hire
We are now proud to be the first company in the UK to offer a 16ft White Circular RGB Starlit Twinkling Dance Floor.
We are looking to add to our stock and will be introducing a Gold and a Black circular dance floor in due course.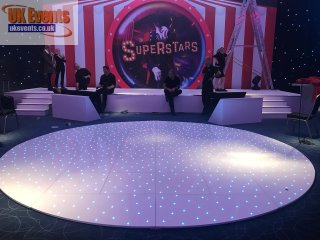 Our circular dance floor can be adapted to create a square or rectangular sparkly effect dance floor. Magnetic trim is used around the perimeter to finish of the look and make to make safe.
Our circular dance floor does not come with sloped trim but sits just 3cm from the ground.
Round Dance Floors
New and available to hire, we are proud to offer a white circular RGB Starlit dance floor just to be a little different and to lead the field in dance floor hire. You will not find these floors anywhere else as we are the sole suppliers. Each dance floor panel has small colour changing LED lights that can twinkle away to give a starry night effect to your dancing space. The RGB dance floor range is modelled from our industry standard starlit dance floor. This new generation of flooring has the latest RGB LED technology, which offers a bright stunning twinkly effect.